Medical Marijuana Patient Card Certifications
For as Little as
$45
with medical records!

Here's how to receive your Arizona Medical Marijuana patient card!
Call cardsNOW at 480-581-9000 to set an appointment for your patient card certification at our location. Simply say "I want to be certified!" And the front desk will set up your appointment.

Cost
ONLY $45 (net cost) after punch card for meds from truBLISS!! ($45 with records, $75 without records)
$95 Booking / Doctor Fee


(refundable with 72-hour cancellation notice)


+ $150 State of Arizona Fee


(payable to AZDHS.gov licensing portal)


- $200 Punch Card from truBLISS

= $45!
(With your MEDICAL RECORDS) No records add $30: $75 total
$200 in FREE MEDS + Save Over $500/year in Taxes!

Patient Card Benefits
Possess up to 2.5oz Legally
Save over $500 a year in recreational tax* ($65 a week plus 16% x 52 = $540 you save)
You can still make recreational purchases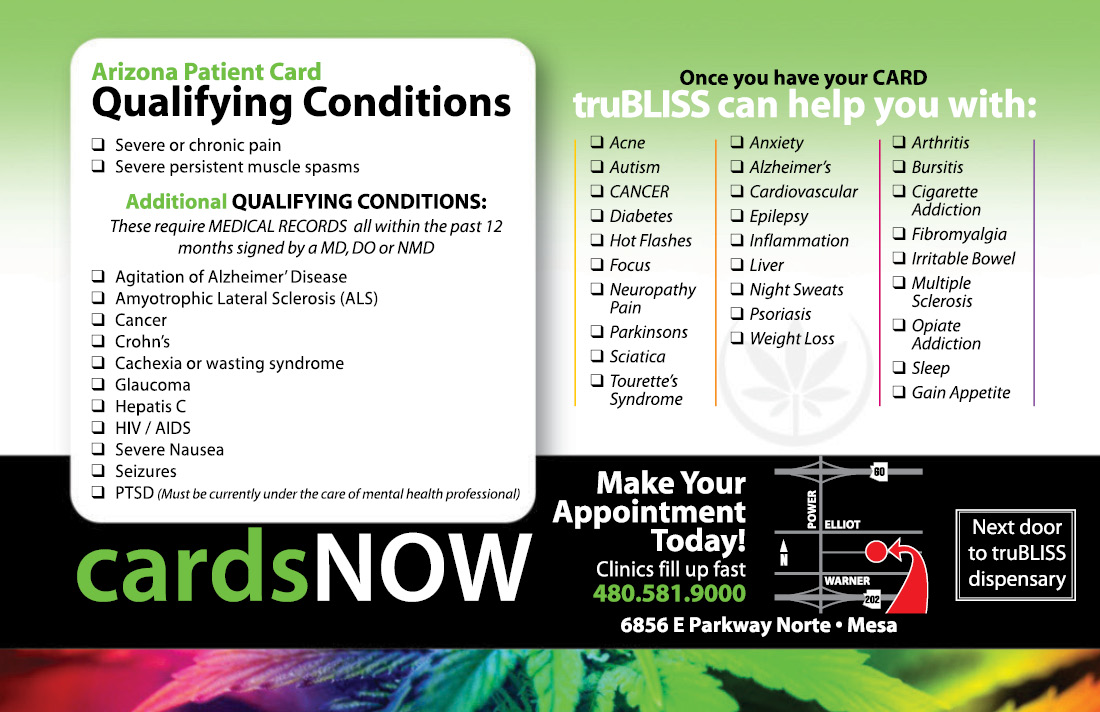 Arizona Patient Card qualifying conditions
Severe or Chronic Pain
Severe Persistent Muscle Spasms
Additional QUALIFYING CONDITIONS:
These require MEDICAL RECORDS all within the past 12 months signed by a MD, DO, or NMD
Agitation of Alzheimer' Disease
Amyotrophic Lateral Sclerosis (ALS)
Cancer
Crohn's
Cachexia or Wasting Syndrome
Glaucoma
Hepatitis C
HIV / AIDS
Severe Nausea
Seizures
PTSD (must be currently under the care of a mental health professional)
With your card,
truBLISS

can help you with
Night Sweats
Pain
Fibromyalgia
Epilepsy
Inflammation
Cancer
Post Traumatic Stress Disorder
Acne
Arthritis
Insomnia
Parkinson
Alzheimer's
Nausea
Diabetes
Multiple Sclerosis
Cigarette Addiction
Hot Flashes
Bursitis
Anxiety
Chron's
Sciatica
Cardiovascular
Irritable Bowel Syndrome
Neuropathy Pain
Make Your Appointment Today!
Clinics fill up fast. Call cardsNOW at 480-581-9000