Rick Simpson Oil Protocol
What is RSO?
Rick Simpson Oil, or RSO, is a concentrated form of full extract cannabis oil prized for its medical benefits, especially for cancer patients. It is meant for oral consumption ONLY or inserted into the rectum in a suppository, and not to be inhaled or used for dabbing like other concentrated oils. Unlike distillate and isolate oils used for vaping, RSO/FECO (Full Extract Canna Oil) retains more of the phytochemicals present in the cannabis plant which adds to the therapeutic value.
After reading an article from the Journal of the National Cancer Institute about THC killing cancer cells in mice, Rick Simpson made the decision to attempt to treat his own Basal Cell Carcinoma topically with cannabis oil. After four days of bandaging his cancerous spots with cannabis oil, he removed the bandage to find the spots had disappeared. Unable to keep his success a secret, and despite legal risks, Rick has personally helped treat over 5000 patients with RSO and shared his knowledge with countless others. There are numerous anecdotal reports of successful outcomes utilizing his methods.
RSO Suggested Protocol
The goal of a RSO protocol is to consume or absorb 60 grams of Rick Simpson Oil in 90 days.
This is a very large amount of cannabis oil and should be taken with caution, increasing the dose gradually to avoid adverse effects. One should ALWAYS have CBD tincture on hand to counter RSO overdosing to the point the room is spinning. At the first signs of getting high, taking 50 or if necessary 100 mg of CBD under the tongue and holding 1 minute before swallowing will minimize the psychoactive effect of RSO. Remember, humans CAN NOT die from THC, but they may want to if they overdose.
Below is a suggested outline for increasing the dose until the recommended 1 gram per day dose is achieved and 60 grams is achieved over 90-day period. You will want to purchase from Amazon a milligram scale. Most are less than $20. (i.e. By Fuzion)
Fuzion Milligram Scale
Suggested Dosage Outline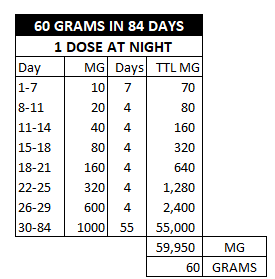 Afterwards reduce to a maintenance dose 1-2 grams total per month. (300-500 milligrams once a week)
Here is a chart if you want to just eyeball your dosing: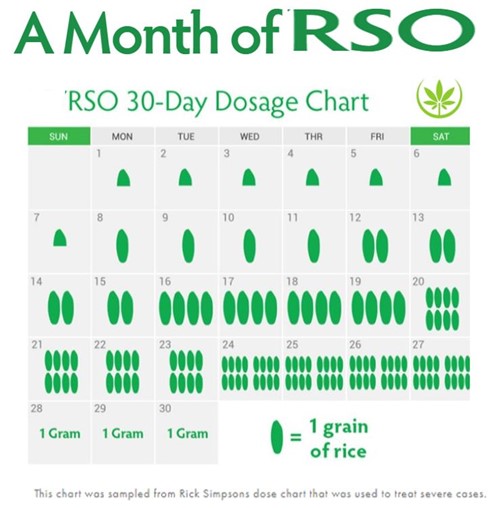 Continue the 1 gram dose for 55 day.
Side Effects
Patients starting a RSO protocol should plan appropriately as the potential for side effects is greater during the first three to four weeks of the protocol. Once a tolerance is built most patients report few to no negative side effects. The most common side effect is sleepiness and sedation, with quality sleep being an important aspect of the healing process. High doses of THC can also cause increased heart rate, anxiety, dizziness, nausea, and difficulty with concentration. CBD can be used to counteract the psychoactivity or negative side effects of THC.
Reduce or Eliminate Side Effects
CBD
Patients new to cannabis or concerned about psychoactivity may want to pair their RSO protocol with equal or greater doses of CBD oil to reduce the potential for negative side effects.
Suppositories
RSO can be delivered to the body via suppositories. Some dispensaries carry pre-made suppositories but it increases the cost of the treatment but a great guarantee of avoiding pyschoactivity if doses are placed not too high into the rectum (no more that 1.5" from the opening). This avoids contact with the Superior Vein and others leading to the liver.
Rule-of-thumb-for-the-bum
More than 1.5 knuckles you might get high and then some.
Learn how to make homemade suppositories via Youtube. Suppository molds are available on Amazon as well as cocoa butter wafers. Coconut oil also works.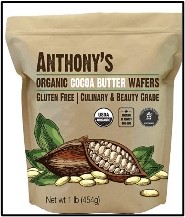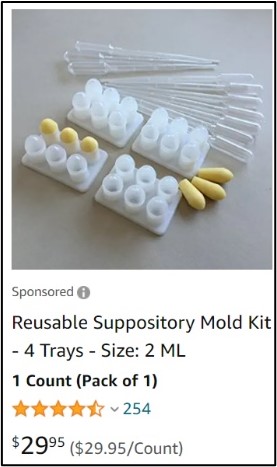 RSO Topical Use
Like Rick's original success, many patients use RSO topically for skin cancers. To do this, place a small amount of RSO on the affected area and to move its stickiness to cover more area tap into the medicine a small amount of coconut oil and tap until the RSO and oil blend. Cover with a bandage, changing the bandage and applying more oil every 1-3 days. Many patients report that over time the cancerous spots will dry, crack, and diminish. After the area has healed, it's recommended to continue applying RSO for at least two weeks.
Where to Purchase RSO
RSO is available at truBLISS, Mesa, Arizona. Arizona State law requires that it must be picked up in person with proof of age. The limit of the amount that can be currently purchased cannot exceed either 1 oz a day if purchased as recreational with no more than 5 grams of it being concentrate like RSO or 2.5 oz (approximately 70 grams) if purchased with an Arizona Medical Marijuana Patient Card. Call truBLISS for assistance you wish to obtain or renew a medical card.
Call for details on bulk purchase of 70 Grams for cancer treatment and maintenance program.
Further Reading Rick Simpson's Official Website
https://phoenixtears.ca/
How to Use Medical Marijuana for Cancer
https://www.leafly.com/news/health/how-to-use-medical-marijuana-for-cancer
CBD, THC, and Cancer
https://www.projectcbd.org/medicine/cbd-thc-and-cancer
The Current State of Research
Animal and lab studies have demonstrated THC and other cannabinoids such as CBD slow growth, reduce spread, and/or cause death to certain type of cancer cells.
Published in 2006 in the British Journal of Pharmacology, a team of Spanish researchers administered pure THC into the tumors of 9 patients with glioblastoma who had failed to respond to traditional therapies. This first of its kind clinical trial, found that THC treatment was associated with significantly reduced tumor cell proliferation in every test subject.
Mounting evidence demonstrates the impact cannabis has on helping to manage cancer related pain, fatigue, nausea, appetite loss, and other side effects.
Some research suggests that cannabinoids are most effective when paired with traditional cancer therapies.
This information is for educational purposes only and not to be construed as medical advice.